Are you taking Push Notifications into account to engage better with your customers? Today we bring you a complete guide so that you can take advantage of this practice and choose the providers that best suit your app business.
Push Notifications are one of the most important things you have to take into account if you want your online business to succeed. So, if you got an iOS or Android app, or if you're looking forward to converting your website into an app, this article is a must-read.
Well, what is a push notification then? They are messages that an application sends to a mobile device, and help brands to stay connected with their audiences. They usually appear at the top section of the screen or while the device is locked.
In all cases, the user is free to choose to receive them or not. This will depend on how important they think they are for them. We are convinced that many of you have disabled notifications of apps that did not add any value to you.
Why are they important?
The importance of push notifications is based on the fact that most of the time, users are not interacting with your app. So they work as a reminder of something important that you want to tell them.
This will help drastically to get users to interact with your product. But rather than just a marketing move, it means a huge opportunity for improving user experience.
But, think for a second. What do you want to see in a notification if you are a user?
You have to be very careful if you want to succeed in this practice. Bad strategies bring a bad user experience. But here we give you five tips for writing a good push notification:
Short and Concise.
With an intriguing message.
That contains a call-to-action.
Customize the language and time of your audience.
Be selective: Do not fill the user with irrelevant information.
Now that we've seen a brief introduction of what they are and why they are important, let's get into an introduction to the best providers on the market.
Best push notification providers
OneSignal
PushBots
Airship
Batch
Taplytics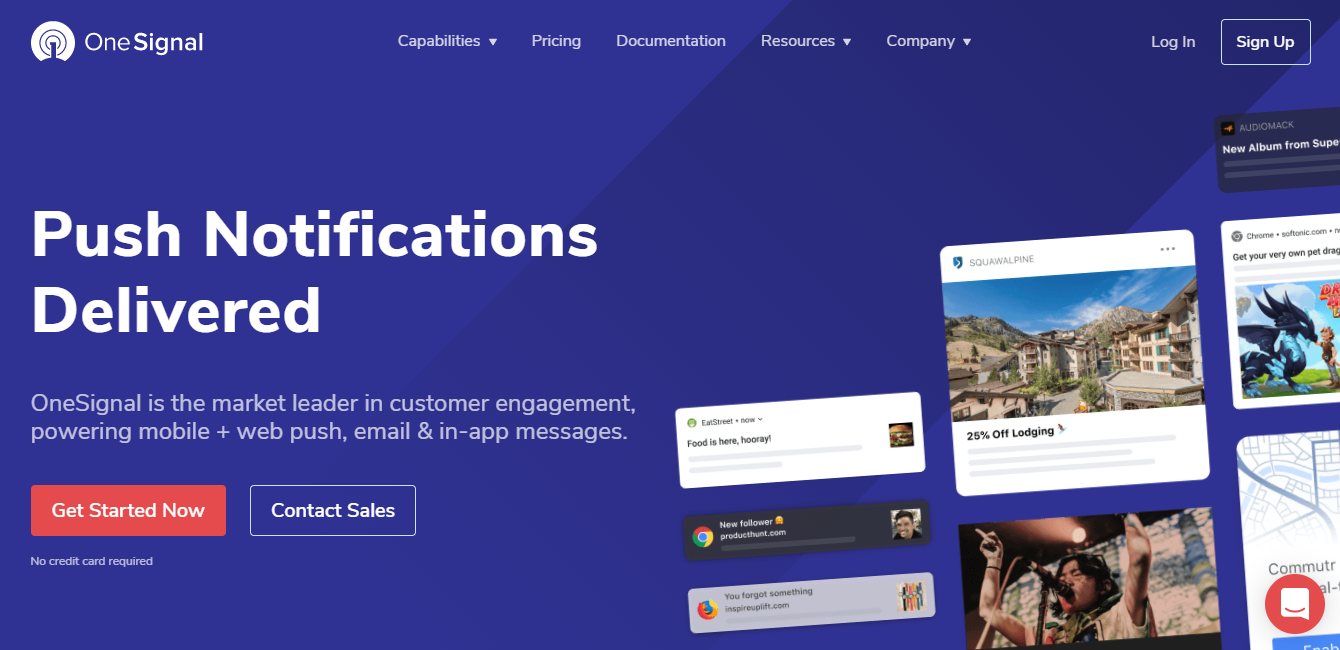 OneSignal is probably the leader of the push notifications market. They offer an ultimate customer engagement service, with features that go from mobile push to email notifications.
They provide their service to companies like Volkswagen and Verizon, and it is used by more than 1 million developers all around the world.
In Convertify we use OneSignal to offer our clients one of the best experiences with their customer engagement.
Pricing: They have three plans that go from Free to 600 USD per month.
– Free
– Starter: From $99/month.
– Pro: From $600/month.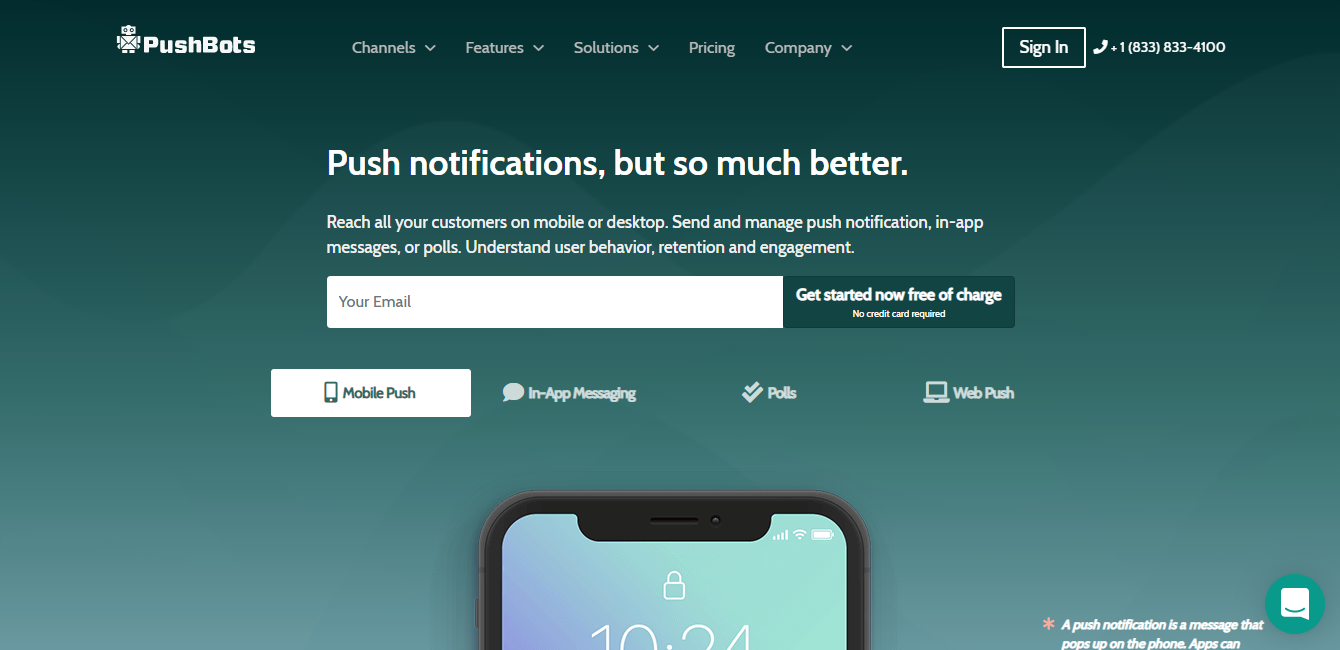 This company offers a great deal for its customers, with a highly scalable system, world-class support, and unlimited notifications. They are focused on the problem your business is trying to solve and help you reach all your customers from mobile to desktop.
Whether your business model is ads or subscriptions, PushBots will provide you with the right tools to re-engage your customers via basic/rich push notifications, web push technology, in-Notification polls, and in-App messaging.
Pricing: It offers five plans that depend on the number of subscribers your app has. And go from Free to a personalized plan for enterprises.
– Free (up to 1k subscribers).
– Basic (up to 20k subscribers): $49/month.
– Plus (up to 150k subscribers): $129/month.
– Ultimate (up to 300k subscribers): $249/month.
– Enterprise (more than 300k): Custom.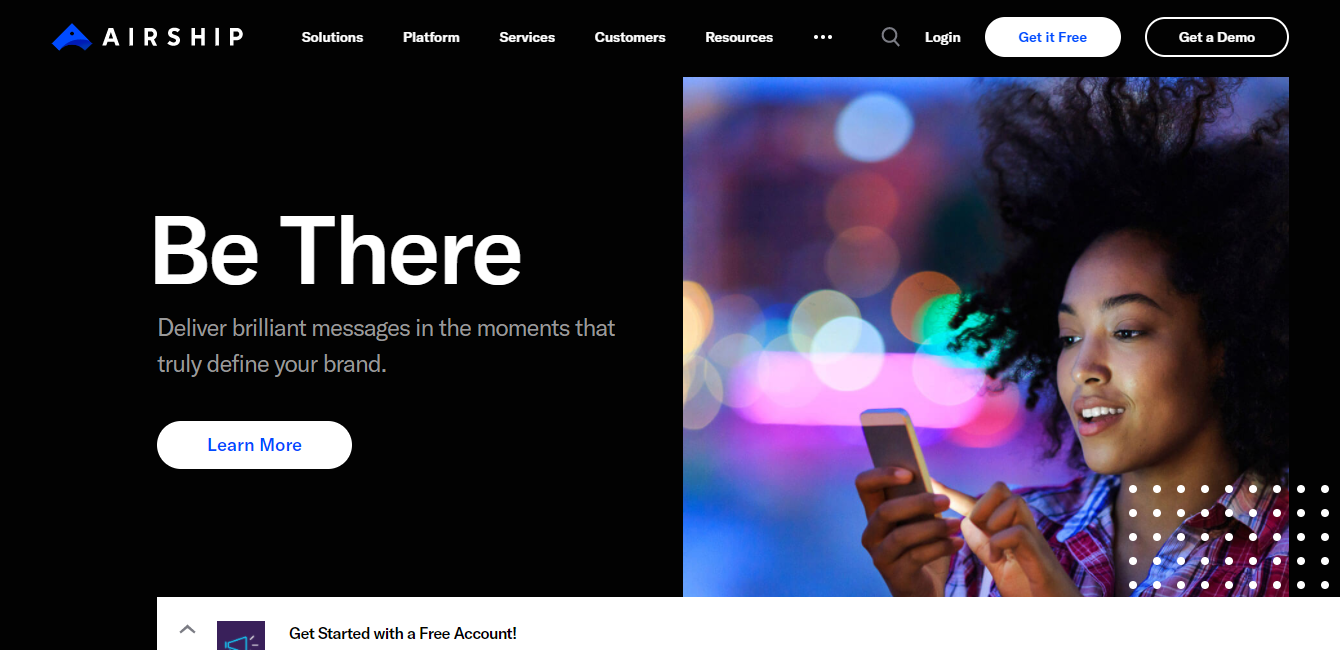 Airship is a company trusted by big companies like Vodafone, AccuWeather, Wall Street Journal, and BBC. They offer a multi-channel customer engagement that allows clients to unlock their growth potential, accelerate results, and sustain success.
They have more than 10 years of experience and works with more than 50K apps.
Pricing: You can get the pricing by getting in touch with them and with an evaluation of your business needs.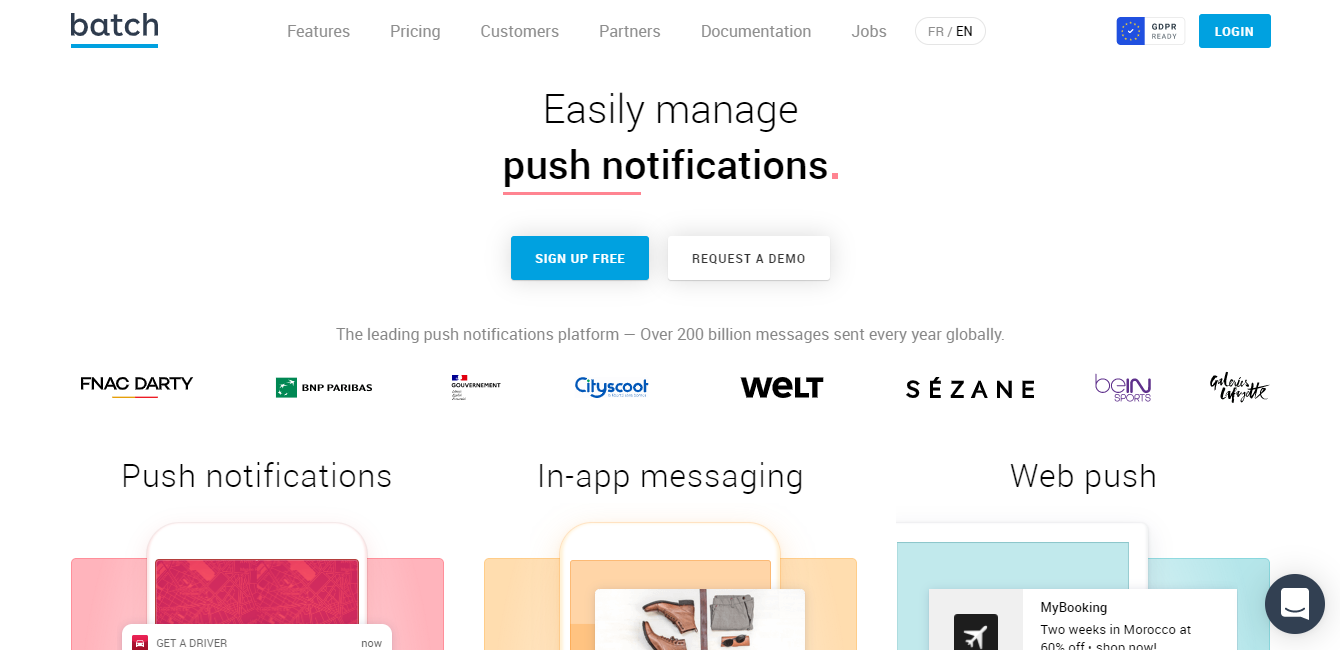 Batch is a platform that allows users to create really personalized campaigns to fully develop their customer engagement success and also automate their messages.
One of their interesting features is that you can pre-visualize your notifications before they're sent. They also offer an A/B testing technology that helps you understand what types of messages get more engagement from your audience.
Pricing: They have five different plans that go from free to enterprise customized one.
– Free
– Developer: $245/month.
– Startup: $495/month.
– Business: $795/month.
– Enterprise: Depends on your needs.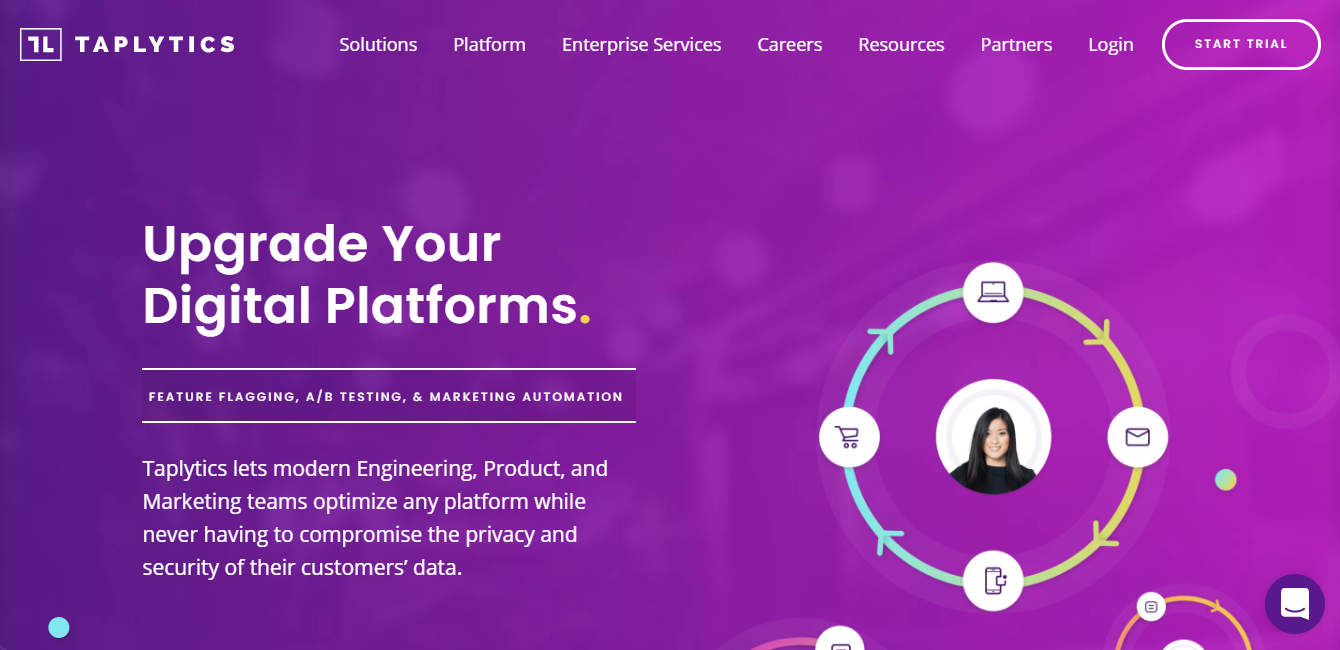 Taplytics is a Digital Optimization Platform that offers A/B testing and experimentation, marketing automation, email marketing, as well as push notification management. They are a Palo Alto, California-based company.
As you may think, they are a really complete service and its campaigns can also be measured with specific goals in terms of retention, awareness, or engagement.
Pricing: To get the pricing of their service you have to contact them and build a plan according to your business needs.
How to Set Up Your App Push Notifications with Convertify
In the following videos from Convertify's Youtube Channel, you'll learn step-by-step how to set up push notifications for an Android app and for an iOS app.
Conclusion
The reality is that there are a large number of push notification providers and that the vast majority offer an excellent service. The decision of which one to use is in your hands.
But the importance of all this is that, if you are thinking of creating an application for your business or want to convert your website into an app for a better service to your customers, take push notifications into account. They are an excellent tool that not only will help you grow your business, but it will also allow you to know your audience in a better way. And without a doubt, all of this has a very positive impact on your business.
We hope you enjoyed this guide and we look forward to your subscription to learn week by week with Convertify Blog.