Ups and downs we've experienced since we launched on Product Hunt and how it helped us to grow as time went by.
As you all probably already know, launching on Product Hunt is one of the most prominent ways to launch your recently started project/product. If you make a successful launch on Product Hunt which means ranking at least on position 5 of the day, then you are most likely to gain a lot of traffic and potential customers.
🚀 How to successfully launch your product on Product Hunt?
Launch Time
Always launch at 12:00 AM San Francisco time. The majority of PH users live there so it's a good thing to be present right at the start of a new day. Schedule your launch to that time and you will gain more exposure for sure. Calculate your timezone with california's timezone here so you make sure you launch the right time.
Name, tagline, photos, and videos 📸
First thing PH users see is your Product Name, Tagline and Icon. So make sure to make those as engaging as you can, so more people click on your product and see what it's about and maybe get an upvote, comment, share, whatever. Also try to be authentic, non-spammy and non-promotional. Here is Convertify's example:

Showcase images
I highly recommend to add a video to your showcase section. I did not add any video for Convertify because at the time we did not know it would be so successful but what I've learnt is that things are very unexpected and you always need to give your best. For this occasion a video would've been a great way to make Convertify look a whole lot more professional. If you can't add a video, then take a look to our images here and try to get some inspiration 🙂
Clean description ✏️
PH users will see your product description below your showcase images. Try to keep it short and very precise. Engage the benefits with the need of your product in just three lines. Here is a quick example from Convertify:

Be the first comment 💬
Comments are great for extra info and maybe to tell a small story about your product. Just be authentic, don't be spammy. Be the first to comment so everyone sees your comment. Take this one for example: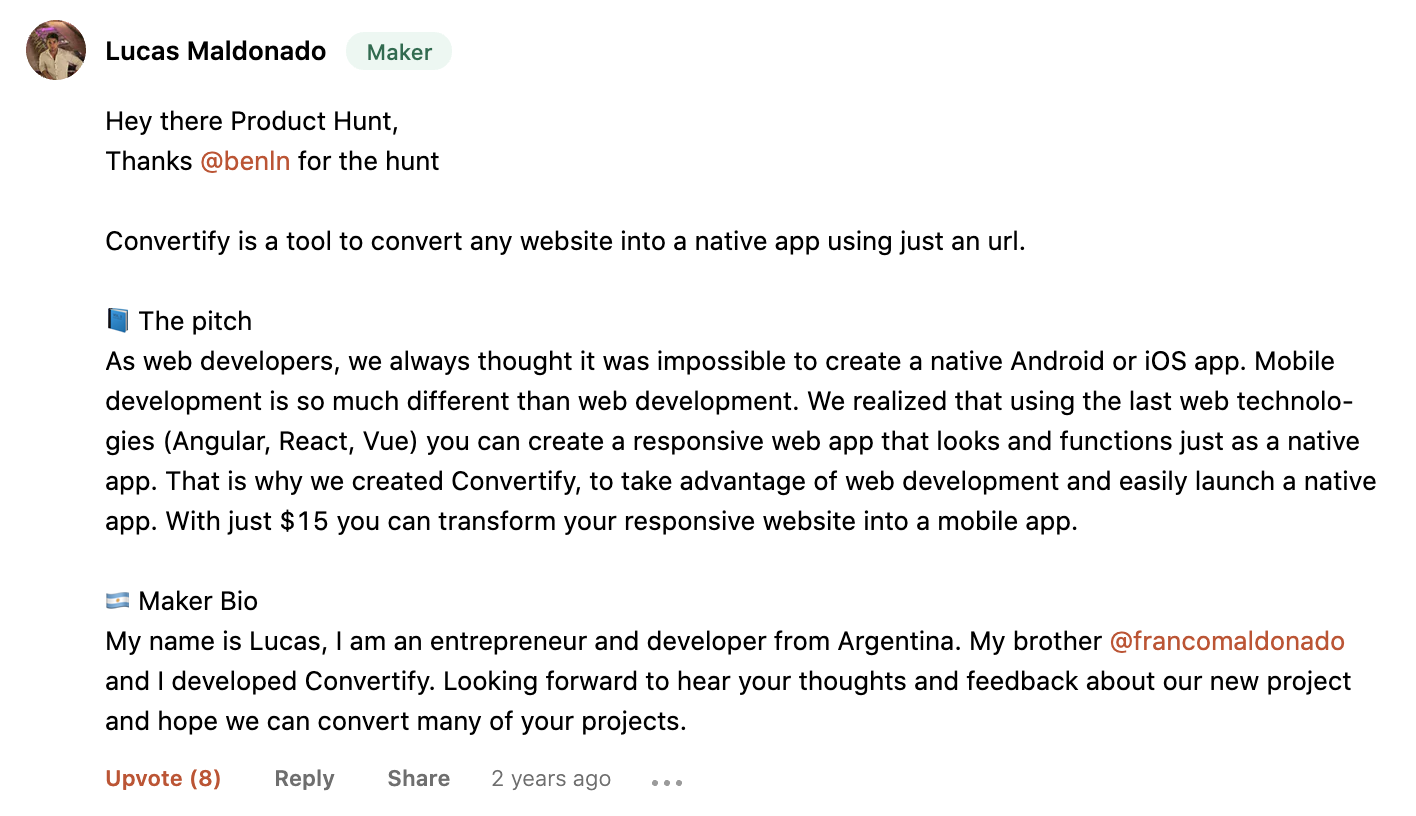 Tip 💰
I strongly recommend to use PreviewHunt to prepare your product page. This website will help you set everything up for your product hunt launch.
Look for a hunter with many followers or someone important on the community to launch your product. Although Product Hunt does not share their algorithm, I think it helps if someone with followers hunts your product.
Personal Experience
Well, would like to start saying that we were really successful on our launch on PH. We made it to #3 Product of the Day and therefore gained thousands of new visitors that turned into docens new customers. In terms of exposure we were really successful and we couldn't ask for more.

Thing started to get more complicated as new customers came in. Customers and specially PH users are very demanding. It wasn't all sunshine and rainbows, bad reviews started to popup and we couldn't handle the amount of clients that came in because obviously we were starting and at the moment it was only me and my brother taking care of everything.
Apps were supposed to be delivered within 24 hours of purchasing, and we were almost precise about that even though we were just 2 individuals working. As we delivered the apps, more and more requests for simple changes like app icon, app name started to come and seriously we couldn't handle that amount of requests. It was something like 30 apps in 24 hours plus changes requested by each customer. We were able to deliver everything that they asked but as I said before, customers are very demanding and the bad reviews were already written. Look at some metrics from the day we launched:

How we managed to stay tall after PH?
Truth be told, the following 6 months after PH were really dry with less than 100 visitors everyday. Humilliating? not much, at least we've proven that our product can make sells. Next step was very clear, read the comments and start improving on what our clients demanded.
We put 4 months non-stop into work to make our website the greastest app converter on the web. We hired a bunch of new developers really passionate with the idea to help us make our apps as complete as they can possibly be. Note: we are constantly updating and improving our apps with the same team. Check our current and new features here.
6 months after launching on PH, we started to see some growth on our daily visitors and our sells kept improving as well. We've been improving since the day we launched and it's been a beautiful journey with a lot of mistakes and a lot of good decisions too. We are looking forward for the years to come and we keep learning and trying new stuff to help more people have their own apps published on App Store and Play Store.
🤔 What we could have done better…
Well, when you are new to something you most probably don't know pretty much about it. It happened to us, may happen to you. Let me explain a little bit, when we launched Convertify we focused on upvotes more than the actual product. The product and the idea were fine and we did a good job explaining it. But the second our product was launched, we asked our friends to create a PH account and give us an upvote.
We strongly believe that PH algorithm focuses more on the users that are part of the community than those ones who have recently created an account and went directly to upvote a product. So, like our case, you may have gotten more upvotes than number #1 and #2 but still didn't make it to #1 Product of the Day. The only reason why is because we have some upvotes from people that are not big members of the community.
So, focus more on the product and how you can get more upvotes from important members.
What we would do differently next time 😉
We will definitely focus more on the community than on the product alone. In the end you want the community to like your product and use it. Focus on who you can reach the community preferences.
Connect with PH members
Don't be shy, text some of the most followed PH members and tell them about your upcoming product and what do they recommend. Maybe they find your product very interesting and end up helping you and sharing it on social media or any website.
Participate in comment section
Asking and answering questions to your own customers or future customers might be the best way to build a friendly environment of work. Also, PH added something call 'POLL' to its comment section and that might be the best way to understand what your customers like most about your product. Here is a quick example of a POLL:

But most importantly after launching your product, spend some days upvoting and commenting on other products that are coming to product hunt homepage. In other words: join the community and make yourself known. It will definitely increase your exposure when launching your product.
📈 PH launch metrics
2,204 visitors
32 customers
824 USD